GIVING YOUR BEST TESTIMONY IN A CUSTODY CASE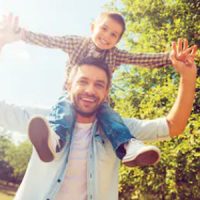 It's important that you communicate to the judge the kind of relationship you have with your children. You may be the best parent in the world, but if you can't effectively describe this, you probably will not do as well as you desire in your case. Some witnesses verbalize better than others. If you have good communication skills, it's a plus. If you are not able to communicate effectively about your relationship with your children, you must work to improve that before you take the witness stand.
When asked to describe their children, most people do it superficially. They have difficulty saying much more than, "Mark is a great kid." You want to make the judge see and feel that Mark is "a great kid" by helping him or her visualize this. If you can make the judge see Mark as you do, he or she is going to view your  relationship positively.
It is more effective to use detailed and descriptive words. For example, "We live in a small town" means different things to different people. "We live in a small town with a population of 2,000 people" is more descriptive. And, "We live in a quaint small town with a population of 2,000 people in rural Southwestern Pennsylvania" is even better.
These are the types of details you should use when testifying about your children and your relationship with them. The judge has probably heard hundreds of similar cases. You must paint a picture of yourself, your children and your relationship with them that the judge can clearly visualize.
When you are preparing to testify about the children, jot down points about their imaginations, senses of humor, and sensitivities. Picture their physical characteristics. This will help you explain to the judge their personality, strengths, weaknesses, and the characteristics that make them unique. The judge will also want to know all about your involvement with children. You should be able to name the pediatrician, assistant principal, close friends, favorite color, favorite ice cream flavor, and similar details.
A large part of a custody case comes down to your ability to convey with detail and feeling your relationship  and your bond with your children.  The better able you are to do this, the better you will demonstrate that you are a caring, understanding, attentive, and skilled parent.