Do I Need an Attorney in a Low Modest Asset Divorce?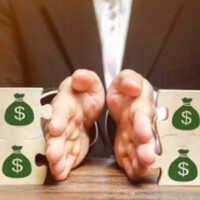 MacKenzie Bezos, former wife of Amazon CEO Jeff Bezos, was awarded four percent of the company's holdings, worth $38 billion, according to Bloomberg. Obviously, there was a lot of money at stake in their divorce, and divorce attorneys likely worked around the clock for both parties to reach that result . But what about the average American's divorce? What about modest-asset divorces, in which the couple does not own a lot of assets, may not own a house, or may have a mortgage on a lower-value home? Do they still need to hire attorneys? The answer depends on what else is at stake, and whether or not the two parties can come to a mutual agreement without legal counsel.
Child Custody
One divorce issue that affects families of all  income brackets is child custody. Whether you are rich, poor, or somewhere in between, an experienced child custody attorney can help you get the custody or visitation rights that you desire.
Child Support
Child support is may be more important for middle and lower income families than for wealthier families, and it is one of the top reasons why you should consider talking to a divorce attorney if you have children. The non-custodial parent, or the parent with greater income in shared custody arrangements, may complain that you are asking too much, or that they are out of work and cannot pay anything, but it should not be up to you alone to support your child. On the other side of the coin, if you are the non-custodial parent or the parent with greater income in a shared custody arrangement, an attorney can help you reach a fair support order that works for your child and your own ability to pay.
Division of Marital Property
It is important that what marital assets a family has are divided fairly, or "equitably," under Pennsylvania law. Moreover, marital debt must be divided equitably as well. If you suspect that your spouse is hiding assets from you, or if they are demanding more of the share of property or less responsibility for marital debt than you think is fair, you should talk to an attorney.
How Much Does Divorce Cost?
While there is no way to estimate how much your divorce will cost without first speaking to an attorney, the risks of not hiring legal counsel may be serious if your spouse is hiding information from you, manipulating you, or refuses to negotiate on any issues.  You may end up losing far more than the amount of your legal fees if you fail to consult with an attorney.
A Pittsburgh Divorce Attorney Can Help
Make no mistake, just because you do not have millions of dollars in assets is no reason to get divorced without considering the advice an attorney can provide. To talk to an experienced Pittsburgh divorce attorney today, call Bunde & Roberts at 412-391-4330 today to schedule a consultation.
Resources:
bloomberg.com/news/articles/2019-07-05/bezos-split-finalizes-as-38-billion-amazon-stake-transfer-looms
cnbc.com/2019/05/14/the-net-worth-of-the-average-american-family.html
businessinsider.com/cost-of-divorce-unexpected-surprising-expenses-2019-8
https://www.bunderoberts.com/how-social-media-impacts-divorce-cases-and-what-not-to-do/