How Social Media Impacts Divorce: What Not To Do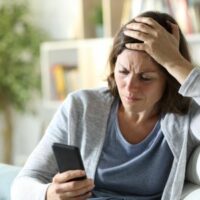 For many of us, sharing the most intimate details of our lives on social media is a normal occurrence. We live in a world where everyone is connected electronically, and you might think that there is nothing wrong with posting content related to your divorce on your social media platforms. However, you should take a more cautious approach before you post this content, as it could have a negative impact on your case.
It is always a good idea to follow the advice of your divorce attorney when you are in the midst of a divorce case. Your lawyer will let you know exactly what you can and cannot say on social media, and he or she will do everything they can to protect you from possible unfavorable consequences. However, you also need to take responsibility for your own actions. An attorney cannot be there to offer advice throughout your entire day, so you still need to be sensitive to what you post.
Can Social Media Be Used as Evidence? 
Anything you post online can and will be used as evidence against you by the other side. When you post on social media, you are creating a clear, written record that is tied to your identity. The same idea applies to your emails and texts. This is why it is so important to watch what you say on social media.
Insulting Your Spouse 
If you insult your spouse online, you present a negative image of yourself. This may negatively impact your chances of achieving a favorable outcome. This is especially true when it comes to child custody, where the court is tasked with determining who is the most responsible parent. If you are attacking your spouse online, a judge might conclude that you are not a very mature parent. This may result in an adverse decision.
Incriminating Yourself 
Many spouses use social media to brag about achieving a positive result in their case. Other's use social medial to brag about their financial success and/or their success in concealing information from the other side.  Bragging on social media is a bad idea.
Showing Off a Lifestyle that Goes Against Your Statements
Social media has become a means of boasting about financial achievements. You should never present a picture of yourself on social media that contradicts your position in your case, and especially your testimony in court. If you have argued that you need a certain level of child support, spousal support and/or alimony, it does not make sense to pose next to your expensive new car, or wearing flashy jewelry, or taking an expensive vacation. Questions will obviously be raised over whether you are presenting your financial situation in a truthful manner.
Enlist the Help of a Qualified Attorney Today 
For help from a skilled Pittsburgh divorce lawyer, contact Bunde & Roberts, P.C. We carefully guide our clients through every step of a divorce, and we provide advice on the best way to pursue a positive legal outcome. While it's true that a mistake on social media can have a negative impact on your divorce, you can avoid this by working with an experienced attorney. Reach out and schedule your consultation today.