Tips for Living Under One Roof While Separated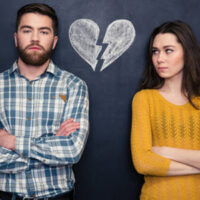 In most divorce cases, the date of separation is an important one.  Sometimes the separation date is easy to determine because one spouse moves out of the couple's residence. However, this is not always an option because of the couple's finances or now, because of coronavirus. Here are some suggestions If you and your spouse need to remain under one roof during separation.
Set guidelines early – Being clear about your expectations and knowing your spouse's expectations will prevent unnecessary pain and anger. There are plenty of small decisions that you can set guidelines for, such as:

Will we buy groceries together or separately?
Who will maintain the yard?
Who is paying the mortgage?

Seek help from a therapist or counselor – Living together with your spouse when you know the marriage is ending can be emotionally draining, especially if your relationship is sour. Having a support network will help you work through any challenges with parenting, having your own space, and making post-divorce plans. According to the American Psychological Association, 20 percent of first marriages end within the first five years. While each marriage is unique, the process you are going through is not, meaning that there are qualified professionals who can help and may even specialize in helping divorcing couples.
Agree on what to tell the children – If you share children with your spouse, it is important to agree to what information the children should be privy to and when. If both parents are sending the same message to the children it will help them feel they are in a safe space and could prevent behavioral concerns. It is also important to address when each spouse will spend time with the kids and when you will all spend time together.
Be respectful of each other when it comes to relationships – Even though you are under the same roof, being separated can be extremely lonely. It will likely be important that each spouse has friends they can rely on, but be respectful of each other's space. For mutual friends and family, discuss how and what you want to share with them ahead of time with each other first. If you are going to begin a new relationship it is not appropriate to flaunt it in front of your spouse.
Practice self care – Remember that at some point, you will be divorced. There is no better time to practice taking good care of yourself emotionally and financially, then during separation.
Contact a Pittsburgh Divorce Attorney Today  
The date that you and your spouse begin separation is important. A skilled Pittsburgh divorce attorney at Bunde & Roberts, P.C. can offer guidance on what type of divorce might be appropriate for you and help you through the legal proceedings. Contact our offices today at 412-391-4330 for a consultation.
Resource:
apa.org/topics/healthy-divorce
https://www.bunderoberts.com/why-you-need-appraisers-in-high-asset-divorces/