Prenuptial Agreements – What They Are Used For and When You Should Have Them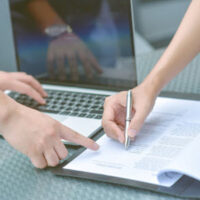 Reasons for Getting a Prenuptial
Prenuptials are not just for the rich and famous. While they can certainly be used to protect a wealthy spouse from another's unscrupulous motives, prenuptial agreements have many purposes, and virtually any stipulation can be written into a prenuptial agreement. Below are some reasons why you should consider getting a prenuptial agreement with your soon to be spouse:
Asset Protection—If there is a difference in the premarital financial situations of future spouses, it may make sense to determine before the marriage what happens in the event of a separation, divorce or death of a spouse. A prenuptial agreement is a tool to determine before the marriage the rights and obligations of the parties under these circumstances.   It allows the parties to avoid often protracted divorce litigation or litigation over a deceased spouse's estate.
. Second Marriages – Prenuptial agreements are common in the case of a second marriage where one or both of the spouses has children from a prior marriage. These agreements may be used to modify the law to the desires of the marrying couple to ensure the protection of their prior children.
Business Owner Protection—You dedicated years of your life to your small business. Or you and your family members are the owners of a family owned and run business enterprise. A divorce may impact your ownership. A prenuptial agreement can be used to protect your business interests in the event of a separation, divorce or death.
Support—Pennsylvania law establishes support obligations between spouses as a result of marriage. Prenuptial agreements are often used to limit or eliminate these obligations upon separation or divorce.
Decreased Emotional and Financial Costs of Divorce—Prenuptial agreements can be used to save time, money and aggravation in the event of separation, divorce, or costly litigation over an estate in the event of death by predetermining what will happen in these instances.
A Pittsburgh Prenuptial Agreement Attorney Can Help You Get Started Today 
A prenuptial agreement can bring peace of mind to your marriage and ensure that all parties are protected in the event of a known issue such as one spouse's debt, or unforeseen difficulties down the road. To talk to an experienced Pittsburgh family lawyer, call Bunde & Roberts today at 412-391-4330 to schedule a consultation.
Resources:
washingtonpost.com/news/wonk/wp/2017/08/11/study-one-in-eight-american-adults-are-alcoholics/
nih.gov/news-events/news-releases/10-percent-us-adults-have-drug-use-disorder-some-point-their-lives