What Happens To The Family Pet In A Pennsylvania Divorce?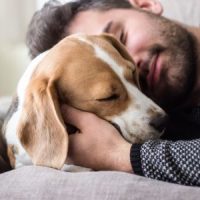 Going through a divorce can be an emotionally difficult experience. Even if the couple has decided to amicably go about their separate ways, there may still be a question of who gets to keep the family pet. This issue may be a major source of contention during a divorce, but understanding what a court will and won't do may help couples resolve this issue quickly and peacefully.
If you and your soon-to-be-ex-spouse share pets, you might want to schedule a consultation with a Pittsburgh family lawyer at Bunde & Roberts, P.C., to discuss what would happen to your furry friends when you end your marriage.
What Power Does the Court Have When Deciding on the Family Pet?
In many states, including Pennsylvania, pets are considered property, meaning they are subject to property division laws. According to the Pennsylvania Divorce Code, marital property will be distributed equitably.
If you direct in your Marriage Settlement Agreement that one of you will get the family pet, that provision will most likely be enforced by the court.  However, if you decide to share a pet, and one of you breaches that arrangement, the court will most likely not enforce a "pet custody" provision.  Pennsylvania has not yet enacted legislation that would recognize the legal validity of such arrangements.
So, it is certainly possible for both parties to share a pet after a divorce if they can agree upon such an arrangement. However, if one party objects to a shared arrangement, or breaches an agreement to share, there is probably little legal recourse.
How can you Reduce Conflict Over Pets in a Divorce?
The key is communication and compromise – both parties must be willing to negotiate and arrive at an arrangement that works for everyone involved (including any children). If all else fails, seeking professional mediation services from a third-party mediator may help resolve any disagreements between spouses over pet ownership.  But everyone must be committed to abiding by any agreement that is reached.
Consult with a Lawyer at Bunde & Roberts, P.C.
If you still have questions about the family pet in a divorce, reach out to our knowledgeable family lawyer at Bunde & Roberts, P.C., to discuss your unique situation. Our lawyer can help you come to an arrangement that works best for everyone involved, including your furry friends. Call 412-391-4330 to get a case review.