Can You Modify A Settlement Agreement In Pennsylvania?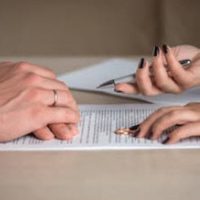 In Pennsylvania, a settlement agreement is a legally binding contract. Entering into a settlement agreement is an effective alternative to trial for many spouses in the Keystone State, as it can be less costly, less time-consuming, and less stressful. But what happens when one spouse wants to change the terms of a settlement agreement after they've signed it? What legal options do they have? Is it possible to modify a settlement agreement, and what consequences could you face if you breach your settlement agreement?
All of these questions are best left to a qualified divorce attorney in Pennsylvania. Connect with an experienced lawyer, and you can approach these issues in a confident, effective manner. Not only will they explain the process, but they can also help you take legal action if you want to take the next step.
What Happens if You Breach Your Settlement Agreement? 
It's important to follow the proper legal steps if you wish to modify your settlement agreement. If you take matters into your own hands and simply stop adhering to the agreement, you could face costly legal consequences. Because your settlement agreement is a contract but also is enforceable as if it were a court order, you could face contempt of court. Your spouse can also sue you for breach of contract. This means that you may have to pay your spouse monetary damages and possible attorneys' fees and costs of the law suit.
Can I Modify a Settlement Agreement? 
It is sometimes possible to amend a settlement agreement depending on the provision being challenged. Certain terms of a settlement agreement such as alimony and equitable distribution are non-modifiable unless they specifically state that they may be subject to change or unless the other party to the agreement consents to the modification. Other provisions such as child support and custody are always potentially modifiable.  You need to be very careful when you enter into one of these agreements. This is why it's always important to work with a qualified attorney as you negotiate and sign an agreement.
The easiest way to modify a settlement agreement in Pennsylvania is when both spouses mutually agree to the changes. You would still want the assistance of a family law attorney to ensure it is being done correctly.
If both parties are unable to agree upon how the agreement will be amended, they can try mediation or arbitration to handle the issue. This involves negotiations led by a third party, with the goal of coming to some kind of compromise and avoiding court.
If these methods fail, then the next option is to go back to court.
Enlist the Help of a Qualified Attorney Today 
For help from a skilled Pittsburgh divorce lawyer, contact Bunde & Roberts, P.C. We have dealt with virtually every aspect of divorce, including matters related to settlement agreements. While settlement agreements can be convenient, they can also lead to legal disputes in many situations. We can help you address your settlement agreement issues and reach a positive, so schedule your consultation today.