What Happens If You Don't Pay Child Support In Pennsylvania?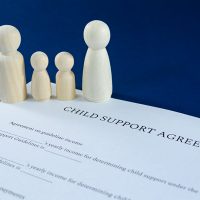 Child support payments are heavily enforced in Pennsylvania. Make no mistake – these payments are not voluntary. If you are ordered to pay a specific amount each month to the other parent in order to contribute to the expense of child raising, you should always do your utmost to do so. If you fail, you could face very serious consequences. These consequences may start off being relatively mild, but they can quickly become much more severe over time if you remain delinquent. You may be surprised at how serious these consequences can be.
If you are facing these types of legal consequences, it makes sense to get in touch with a qualified, experienced divorce attorney in Pennsylvania. If you are unable to make your child support payments, you can seek to have them modified. This means that you may be able to reduce your monthly payments under the appropriate circumstances.
Understanding Court Orders 
If you have a court order that directs you to pay child support, then you must obey it. Violating a court order is serious, and you may be charged with contempt of court. This means that the court may penalize you for violating the court order. These penalties can take a number of different forms.
Initial Consequences 
A common enforcement mechanism is to garnish your wages. This means that your child support payments will come directly out of your paychecks. The court may also take the funds directly from your other forms of cash entitlements, such as rental payments or loan payments being made to you. The court also has the power to freeze and levy on your bank accounts. The court can even intercept your tax refund.
Further Penalties 
If you continue to refuse to pay your child support, additional measures may be taken. Your driver's license may be suspended. Your passport may no longer be valid. Your professional license may be suspended, which may prevent you from practicing medicine, law, or another type of specialized profession. The court can even revoke your hunting and fishing license.
Possible Jail Time 
Finally, a parent who refuses to pay child support can be imprisoned if none of the aforementioned steps work. You may also be fined.
Enlist the Help of a Qualified Attorney Today 
If you need help from a skilled Pittsburgh divorce attorney, contact Bunde & Roberts, P.C. Our wealth of experience with child support cases allows us to help you approach this difficult situation in an effective way. Sometimes, the failure to pay child support is simply a misunderstanding. In other situations, it may be due to unforeseeable financial pressures. Whatever the case may be, you need an attorney to steer you through this. Reach out today, and we will develop an effective action plan together.
Resource:
cnbc.com/2020/04/21/what-to-do-if-struggling-to-pay-child-support-amid-coronavirus-crisis.html