Gifts And Divorce In Pennsylvania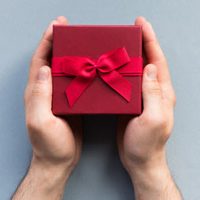 Many spouses give and receive gifts during marriages. In some cases, gifts of tremendous value may be exchanged within the family. This is especially true in more affluent families with high net worth. But how are these gifts treated in a divorce? Is it possible for a spouse to use gifting in order to transfer or conceal assets? What can you do if you believe that your spouse is using  gifting to prevent you from accessing assets?
If you are approaching a divorce in Pennsylvania and you're concerned about the potential impact of gifts,  you should get in touch with a qualified, experienced family law attorney as soon as possible. These legal professionals can recommend the best course of action when you're dealing with property division issues. Spouses may try various tricks to transfer or hide assets, but a qualified attorney can help you avoid this.
How Gifts are Typically Handled in a Divorce 
Generally, the assets acquired during a marriage are considered marital assets, and they are subject to equitable distribution. This means that they will be  distributed in an equitable manner between the spouses. However, there are  some exceptions to this general rule. Inheritances to one spouse alone are not considered marital property, even if the inheritance was received during the marriage.  But the increase in value of the inheritance from the date of receipt to the date of separation is generally marital property. The same  rules apply to gifts from third parties to one spouse. Because of this, spouses who receive gifts or inheritances during the marriage usually  retain the inheritance or gift, and only the increase in value is subject to equitable distribution.
Using Gifts to Conceal Assets 
Things become a little more complicated when spouses  try to gift away assets in an attempt to  remove them from the reach of the other spouse. Spouses will sometimes give assets to their children or other relatives. They may then ask for them back after the divorce is finalized, thereby preventing their spouse from  receiving a share of what has been given away. Sometimes, this kind of activity may be difficult to spot, especially if the spouse is getting help from an unscrupulous financial expert who can hide these transfers from view.
This kind of behavior is not condoned in Pennsylvania. Spouses are subject to disclosure rules during a divorce. This means that they  are obligated to reveal all of their assets and income. If they fail to do this, they  may be subject to various sanctions.
Enlist the Help of a Qualified Attorney Today 
For help from a skilled Pittsburgh divorce lawyer, reach out to Bunde & Roberts, P.C. Over the years,  our experienced lawyers have helped numerous spouses in  Pennsylvania with a wide range of divorce-related issues. We understand the property distribution process, especially in complex marital estates. Schedule your consultation today, and we will help you  navigate this process.