Is Counseling A Good Idea During Divorce?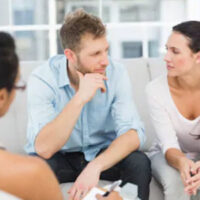 Going through a divorce is rarely ever an easy time in a person's life. The process gets even more complicated and emotionally-draining when children are involved. Utilizing a licensed family and marriage therapist provides numerous benefits for both parents and children. Several different counseling options exist for divorcing parties and families.
Counseling Options
Individual counseling
Co-parenting counseling
Family counseling
Counseling for the children
Individual Counseling
Managing the complex feelings that come with a pending divorce often requires help from a professional. The lives of both spouses are going to change drastically. One household becomes two. Emotional and financial stresses appear. Even if you do not believe a mental health professional will be able to do anything to help you, scheduling an assessment and at least meeting with a counselor may change your mind. Many spouses attempt to use their divorce attorneys as counselors but they are not trained to do soto. Having a professional who is licensed and trained to counsel individuals through the rough times is the best way to deal with the roller coaster of emotions during a divorce.
Co-parenting Counseling
Although each parent may be getting individual counseling, co-parenting counseling helps on an entirely different level. Learning how to raise children with someone who you no longer want to be with and sometimes even have very negative feelings about can be quite difficult. Co-parenting counseling allows the parties to parent their children more effectively and benefits not only the parents but also the children.
Family Counseling
The breakdown of communication and destruction of a relationship between the children and parents is not uncommon during a divorce. This is especially true if the family dynamics involve parental alienation. Having a counselor witness the interactions between the children and the parent with the deteriorating relationship may be hugely beneficial. Changes will not magically happen after one session. Ongoing sessions will be necessary but very much worth the result of a healthy relationship.
Counseling for the Children
The devastating effects of a divorce can affect the children most of all. Parents may see a change in the children's behavior at home and teachers may witness the change at school. Grades dropping, getting into fights with classmates, shutting down, and outbursts in the classroom are common signs. Getting children into counseling often benefits them greatly. Oftentimes, the children feel as though they are put in the middle during a divorce and must choose sides. A therapist is a neutral-third party to whom the children feel they are able to reveal their struggles. At the same time, the co-parenting counseling teaches the parents how to not put the children in the middle.
Counseling in the time of COVID-19
During these incredible difficult times with a pandemic upon us, finding an in-person counselor may be more difficult. This is especially true for smaller offices who do not have the appropriately-sized space to allow for social distancing. The good news is that nearly all therapy offices now offer some type of virtual counseling, whether it be by video or audio. Although it is not exactly the same experience as an in-person session, the help it provides can be invaluable.
Contact a Pittsburgh Divorce Attorney Today
If you are thinking about getting a divorce or your spouse has already filed, now is the time to hire an experienced attorney to help you through this complicated legal procedure. Our Pittsburgh divorce attorneys will give you step-by-step guidance to make sure you and your children are protected. Don't hesitate to reach out to Bunde & Roberts, P.C. for help.
https://www.bunderoberts.com/the-dos-and-donts-of-the-divorce-process/