My Kid Wants To Live With Their Other Parent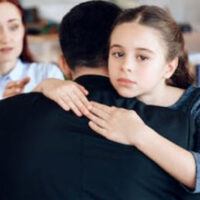 According to the American Psychological Association, four out of ten marriages end in divorce, which leaves a lot of families with tough decisions to make regarding the children. The same is true for parents who never got married, but nonetheless have to come to a conclusion about custody, visitation, and a parenting plan. In the best case scenario, custody is divided equally between two parents who will provide the highest possible care for their children—parents who are able to negotiate and communicate with each other in a positive, nonvolatile manner. Unfortunately, that is not the case for every family. There were obviously issues within the marriage or relationship between the parents that lead them to separation or divorce, and these issues tend to remain unsolved after the couple splits up. A custody action drastically increases the stress levels of all those involved in the divorce or separation, especially the children. One of the most complicated issues in a custody dispute is when a child disagrees with one of the parents, and wants to live or stay with the other parent. If you are going through divorce or separation, or are in the middle of a custody or visitation dispute, you need to talk to an experienced attorney to ensure that your and your child's best interests are taken into account.
Child's Best Interest
A judge will only modify a custody order or make a custody decision when it is in the child's best interest. Elements that go into a judge's decision include, but are not limited to, the following:
Each parent's ability to encourage and permit the child to interact with the other parent;
Extended family;
Each parent's ability to maintain a loving, stable, consistent and nurturing relationship;
Siblings;
Location of each parent's home;
Parental history of drug or alcohol abuse, child abuse, domestic violence, or incarceration; and
Other additional factors.
If the child has a preference, that may also be taken into account by the court.
The Age at Which a Child's Opinion Matters in Court
Under Pennsylvania statute § 5328 "Factors to consider when awarding custody", a judge can take the child's "well-reasoned preference" based on the child's "maturity and judgment." There is no specific age at which a child suddenly has "maturity" or sound "judgment."
Contact a Pittsburgh Attorney Today
If your child wishes to live with the other parent or spend more time with the other parent, it is best to talk to an attorney. You not only need to keep in mind what is in your best interest as a parent by showing the court that you are flexible and are encouraging when it comes to the relationship between your child and the other parent, but you also need to protect your child's best interest as well. If you know that the other parent will not be a good role model, will not help your child excel at school, or will expose your child to dangerous situations, you need to speak up. Call an experienced Pittsburgh child custody attorney with Bunde & Roberts at 412-391-4330 today to schedule a consultation.
Resource:
apa.org/topics/divorce/#:~:text=However%2C%20about%2040%20to%2050,subsequent%20marriages%20is%20even%20higher.
https://www.bunderoberts.com/custody-in-the-world-of-coronavirus/