Common Child Support Questions in Pennsylvania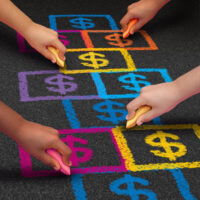 In previous posts, we have discussed the legal and physical custody of children. A topic that oftentimes goes hand in hand with child custody is child support. Child custody is determined based on the best interest of the child. Child support is calculated based upon a formula which starts with a calculation of each parent's net monthly income. Here are some of the most common questions we hear relating to child support and their answers.
How is child support determined?
Pennsylvania has established child support guidelines to calculate child support amounts. Several things are taken into consideration including the net monthly income of the parties, the number of children, and the custody arrangement.
How will I receive my child support?
If the obligor parent receives a salary, his or her employer may be obligated to deduct the support payments directly from that salary. If the obligor parent is self-employed  or receives income in a form other than a salary, that parent may be required to make the support payments himself or herself, either into the system or directly to the recipient parent.
What if the other parent is not paying court-ordered child support?
Speak with an attorney right away. You may need to file a contempt action and bring the matter to the court. At the hearing, the court has the power to enforce the order and to impose sanctions if appropriate.
Is the other parent permitted to withhold custody if I am not paying child support?
This is a commonly asked question. The simple answer is no. If one parent fails to make child support payments in full and on time, that does not give the other parent the right to withhold custody from the non-paying parent.
Will I go to jail for not paying my child support?
The court has several options for punishing an obligor who refuses to follow the child support order. This may include incarceration in egregious cases. Paying a fine, attorneys fees, or suspending the violator's driver license or another professional license is also a possibility.
Contact a Pittsburgh Child Support Attorney Today
If you have questions about a current case involving child support, now is the time to hire an experienced family law attorney to fight for you in court. At Bunde & Roberts, P.C., our Pittsburgh divorce attorneys know the ins and outs of child support cases, from initial orders to modifications to contempt actions. Contact us today for help.