How Has Child Custody Been Impacted By The Pandemic?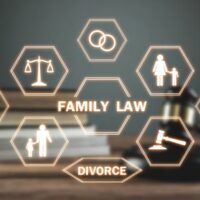 The pandemic has altered many aspects of our lives, and many individuals have seen the greatest impact within their own families. This makes sense, especially when you consider that stay-at-home directives have made us all spend more time with our families during this time. But what about families that are separated? How has the coronavirus impacted child custody? And what about the issue of whether or not to vaccinate a child?
This is all new territory for the legal world, which is why it's important to work with a qualified, experienced family law attorney. Experienced family law counsel can help you resolve potential issues related to child custody that might have arisen due to Covid-19. The courts are still figuring out the best way to handle some of these issues, but your attorney will help you develop a strategy of how to move forward effectively.
Parenting Time and Covid-19 
Many people might be wondering whether it's safe to move children from one home to another during the pandemic. You may be concerned about whether you should drop off your child at your former spouse's residence. Perhaps you're concerned about your child contracting the virus after being exposed to other individuals, or maybe you're worried that your child will later infect you with the virus after returning to your residence.
Generally speaking, you are not permitted to prevent the other parent from seeing your child, even if you believe that there is a health risk posed by Covid-19. The rights of the other parent must be weighed, and you may face legal consequences if you violate a child custody order.
Child Custody and the Vaccine 
Many parents may disagree over whether or not their child should receive the Covid-19 vaccine. Some parents are of the opinion that these vaccinations are unnecessary for young individuals. Others believe that everyone should be vaccinated. When parents disagree on these matters, it can lead to conflict.
The legal custody (decision making) arrangement of the parties will dictate, in part, how decisions such as this are made. Generally speaking, it is more often the case that parents will have shared legal custody. Shared legal custody, means that both parents have equal input into all major decisions concerning their children. Regardless of the physical custody arrangement, shared legal custody means that both parents' decisions will be considered and respected.
If parents cannot come to an agreement, then they may have to go to court in order to resolve the matter. This may either result in the court making a decision about the particular issue, or the court may order that one parent is in charge of decision making for that issue or category of issues.
Enlist the Help of a Qualified Attorney Today 
If you're dealing with child custody issues during the pandemic, it's a good idea to get in touch with a qualified Pittsburgh family attorney as soon as possible. Reach out to Bunde & Roberts, P.C. today, and we can help you make sense of these difficult and confusing circumstances.
Resource:
mayoclinic.org/diseases-conditions/coronavirus/in-depth/coronavirus-in-babies-and-children/art-20484405