My spouse wants a divorce. What should I do?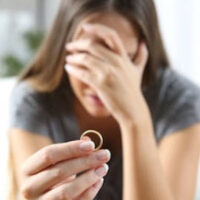 Divorce is a very emotionally draining experience to go through, especially when children are involved. Whether you have attempted numerous sessions of marriage counseling or have been living apart for some time, your spouse approaching you and asking for a divorce can be heart-wrenching. After giving yourself some time to process your emotions, the next step will be to retain legal counsel.. It is imperative to hire an attorney experienced in family law. This is necessary in order to make sure you and your children are legally protected.
The speed at which you hire an attorney will depend on what steps your spouse has already taken. If you were served with divorce papers this means your spouse has previously filed the divorce complaint. In that case, you will immediately want to seek legal counsel to make sure that you are protected now that an action has been filed.
If your spouse has not yet filed the divorce complaint, then you have the option of filing first. In that case, you will want to hire an attorney but may not be on such a tight deadline. Either way, it is imperative to find an experienced divorce and child custody lawyer. Finding a skilled attorney can be a daunting task, especially if you never utilized legal services in the past.  Below is a list of qualities to look for when researching attorneys to hire:
What to look for when hiring an attorney
Make sure to consider the following list when searching for a divorce attorney in Pittsburgh:
Professional/Respectable
Knowledgeable in the area of family law: Look for an attorney with years of experience.
Experience inside and outside the courtroom: It is not only important that your attorney know the law and be able to take you through the process while in his or her office, it is equally crucial your attorney knows the way around a courtroom. Although relatively few cases go to contested trials, if yours does, you want an attorney who is an experienced litigatorin the courtroom.
Strong negotiator: Most cases can be resolved short of a contested hearing on all the issues. Therefore, you want your attorney to be a skilled negotiator, as working with opposing counsel will be crucial to see if an amicable agreement can be reached.
Knows local court rules: Divorce attorneys must know Pennsylvania domestic relations law; however, proficiency of the local court rules is imperative as well.
Familiarity with the family law judges: An attorney, who has been in front of the same judges over and over again, will learn the individual tics and personalities of each one. This will go a long way in being able to accurately advise you on different strategies relating to your case.
Compatible: You and your attorney may be working together for quite some time, so it is important that you get along well.
Explains the law: Domestic relations law is complicated and nuanced. Hire someone who is willing to explain it to you in a way you can understand.
Answers all your questions
Honesty/Does not guarantee you a certain result
Willing to thoroughly discuss the retainer agreement and the financial cost. Your attorney should be up front with you on what fees are going to be involved.
Responds to calls/emails in a timely manner
Works well under pressure
Makes helpful recommendations to you about other professionals you should hire. Depending on the circumstances of your case, you might need to hire other professionals along the way. These may include: therapists, family counselors, forensic accountants, estate planning attorneys, business valuators, tax consultants, and the like. If your attorney has been working in this area of law for quite some time, he or she should be able to recommend experts in all those fields.
Has good reviews from other clients
This list may sound daunting, especially during such an already emotional time. But the good news is our attorneys have each and every one of those qualities. We are a boutique family law firm with many years of experience representing and advising clients in divorce. We are ready to guide you both inside and outside of the courtroom.
Contact a Pittsburgh Divorce Attorney Today
If you are thinking about getting a divorce or your spouse has already filed, now is the time to hire an experienced attorney to help you through this complicated legal procedure. Our skilled Pittsburgh divorce attorneys will give you step-by-step guidance to make sure you and your children are protected. Reach out to us today at Bunde & Roberts, P.C. for help.
https://www.bunderoberts.com/the-dos-and-donts-of-the-divorce-process/