PREPARING FOR YOUR INITIAL DIVORCE CONSULTATION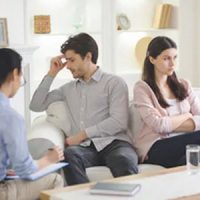 If you are like many people who have never before used the services of a lawyer, your first visit to the lawyer's office may generate some anxiety for you.  This anxiety may be heightened if the visit is to discuss your impending separation or divorce.  For this reason, it would be helpful for both you and the lawyer if you would prepare for the meeting, in advance, by making some notes about topics that you think will be important for your case.  You can help your lawyer to represent you effectively by preparing, in writing and preferably typewritten, an autobiography and a list of priorities related to your divorce. Include the following information, for both you and your spouse, in order to make the best use of your time during your initial consultation:
Educational background;
General employment history;
A chronology of important events in your marriage;
A list of forgone opportunities that you or your spouse have lost because of your marriage;
Assets and their estimated value owned by each of you at the time of marriage, including separate funds brought into the marriage;
Assets acquired during the marriage, including inheritances and gifts;
Special contributions, such as assistance in a business, contributions to education, or use of separate funds by either of you for living expenses or to acquire assets;
Sources of down payments on all real property;
The range of your spouse's and your personal income during the marriage;
The cause of marital breakup;
A list of "rotten things" your spouse has done;
A list of "rotten things" you have done;
Dissipation or waste of assets through gambling, loans, or bad investments, etc.;
All non-financial contributions to child-rearing;
A list, in order of priority, of the results you seek in the divorce.
If you think about these various topics in advance, and if you prepare some notes, you will be less likely to miss discussing some of these important issues.
* Note: Do not let your spouse see your notes.
If you have questions about divorce, contact the skilled Pittsburgh divorce lawyers at Bunde & Roberts, P.C. Over the years, we have assisted numerous spouses in Pennsylvania, and we know how to help you achieve a positive resolution as quickly as possible.