What If I Want A Divorce And My Spouse Does Not?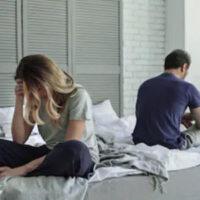 The Pennsylvania Divorce Code contains several ways to obtain a divorce decree.  One of the most common is a consent divorce.  In this type of divorce, the divorce complaint contains an allegation that the marriage is "irretrievably broken."  This language allows both parties to sign and file affidavits of consent to the divorce after waiting a specified period of time.  However, it is sometimes the case that one spouse files such a complaint, and the other spouse is not willing to consent.  What happens then?
The One-Year Separation Period.
In Pennsylvania, once a married couple has separated with the intention not to reconcile, and has lived "separate and apart" for a period of more than one year, they are eligible to seek a divorce decree.  When the current Divorce Code was originally enacted, the separation period to obtain a divorce was three years.  This period was later amended to two years.  It is now one year.
The moving party would allege this one-year separation in the divorce complaint, and would also file an accompanying affidavit stating the date on which the parties separated, and that they have been separate and apart for a period in excess of one year.  It should be noted that "separate and apart" does not necessarily mean that one of the spouses has moved from a shared residence.  It does mean that the parties have physically separated from each other, such as moving into separate bedrooms, separating out their finances, and ceasing to live life as a married couple would normally live.
Of course, if one of the spouses physically moves from a shared house, this is a clear indication of separation. Another clear indication of separation while continuing to live under the same roof is the filing of a divorce complaint by one party.  If that occurs, the court presumes that the separation has occurred as of the filing of the complaint, unless there is evidence that it occurred at an early date.  If a spouse proceeds in this fashion, there is little the other spouse can do to stop the decree from ultimately being issued.
Questions Regarding Fault Divorce? Contact Our Office Today
Divorce is a difficult matter, and it can be very emotionally upsetting. The process may prove to be complex as well. It is understandable if you have questions regarding the divorce process and its implications. To learn more, please contact our team of Pittsburgh family attorneys at Bunde & Roberts today to schedule a case evaluation.
Resources:
legis.state.pa.us/cfdocs/legis/LI/consCheck.cfm?txtType=HTM&ttl=23&div=0&chpt=33&sctn=1&subsctn=0
pacourts.us/learn/representing-yourself/divorce-proceedings